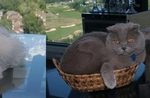 Miya, Scott et Suzie
Hotel Balto is the best in its class and a true five star pet hotel, our cats Scott and Suzie and our dog Miya have stayed at the Hotel Balto at least 10 times since 2009 from short stays of 4 nights to more than 30 nights.
The quality of care, attention to detail, comfort and wellbeing of our children in all duration of their stay in hotel Balto has been exceptional and outstanding. All the staff in Hotel Balto truly love pets and provide first class service. I would like to specially thank the owner Mrs. Diane Levesque and also Briana for accommodating our special needs and requirements for our children in each single visit.
Thank You!
Hamed & Sonia
2018-12-03T15:55:00-05:00
Hamed Kalantari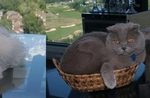 Hotel Balto is the best in its class and a true five star pet hotel, our cats Scott and Suzie and our dog Miya have stayed at the Hotel Balto at least 10 times since 2009 from short stays of 4 nights to more than 30 nights. The quality of care, attention to detail, comfort and wellbeing of our children in all duration of their stay in hotel Balto has been exceptional and outstanding. All the staff in Hotel Balto truly love pets and provide first class service. I would like to specially thank the owner Mrs. Diane Levesque and also Briana for accommodating our special needs and requirements for our children in each single visit. Thank You! Hamed & Sonia
https://hotelbalto.ca/testimonials/miya-scott-et-suzie/