Le Complexe Hôtel Balto offers you several facilities that will be available to your pet!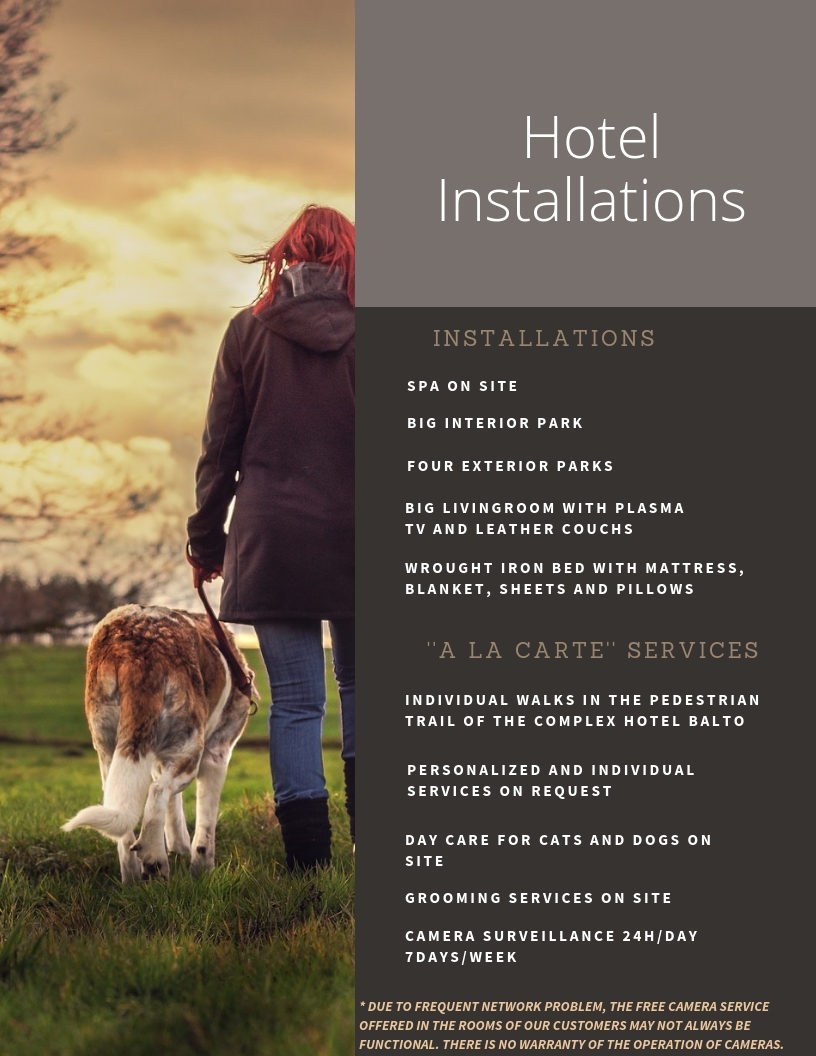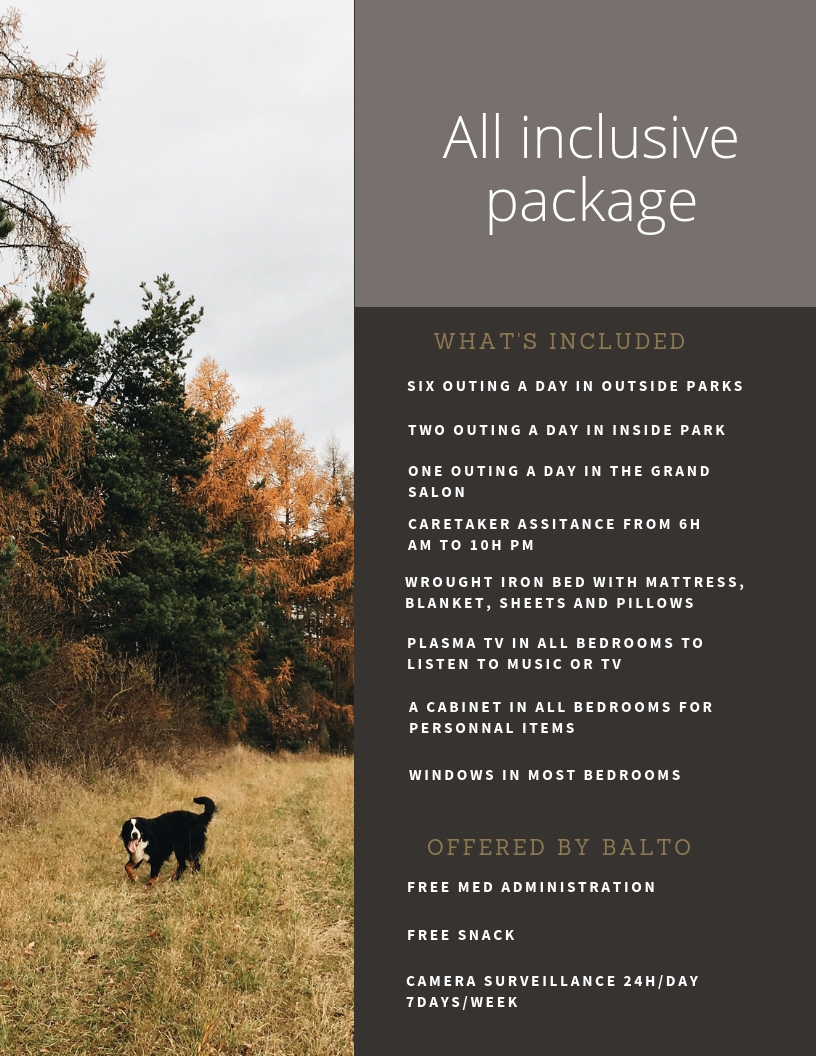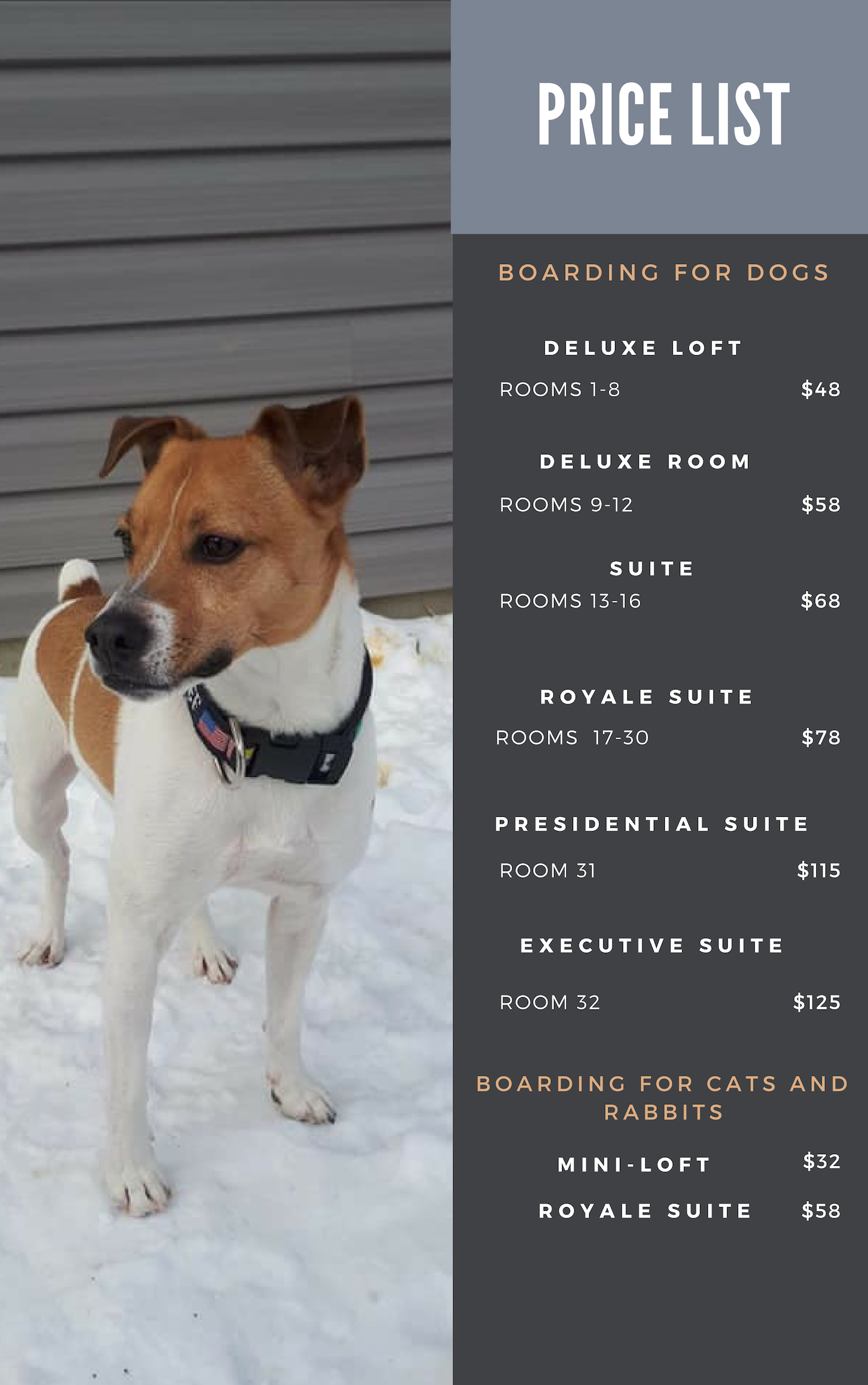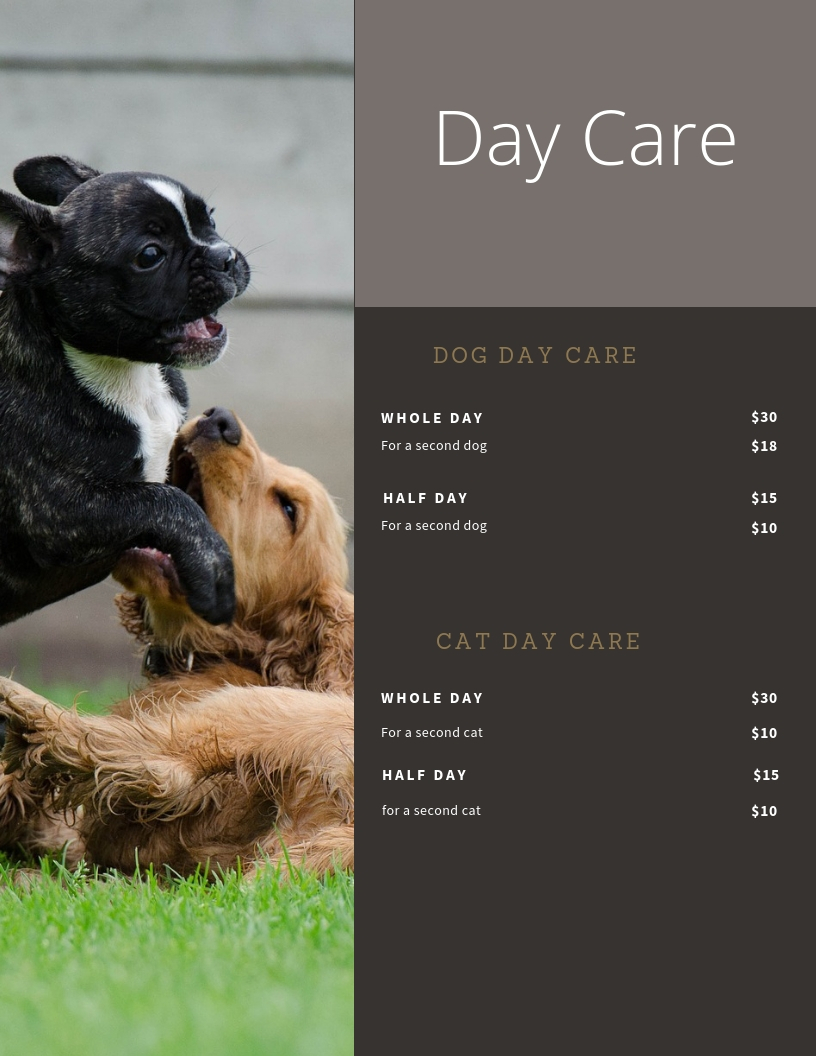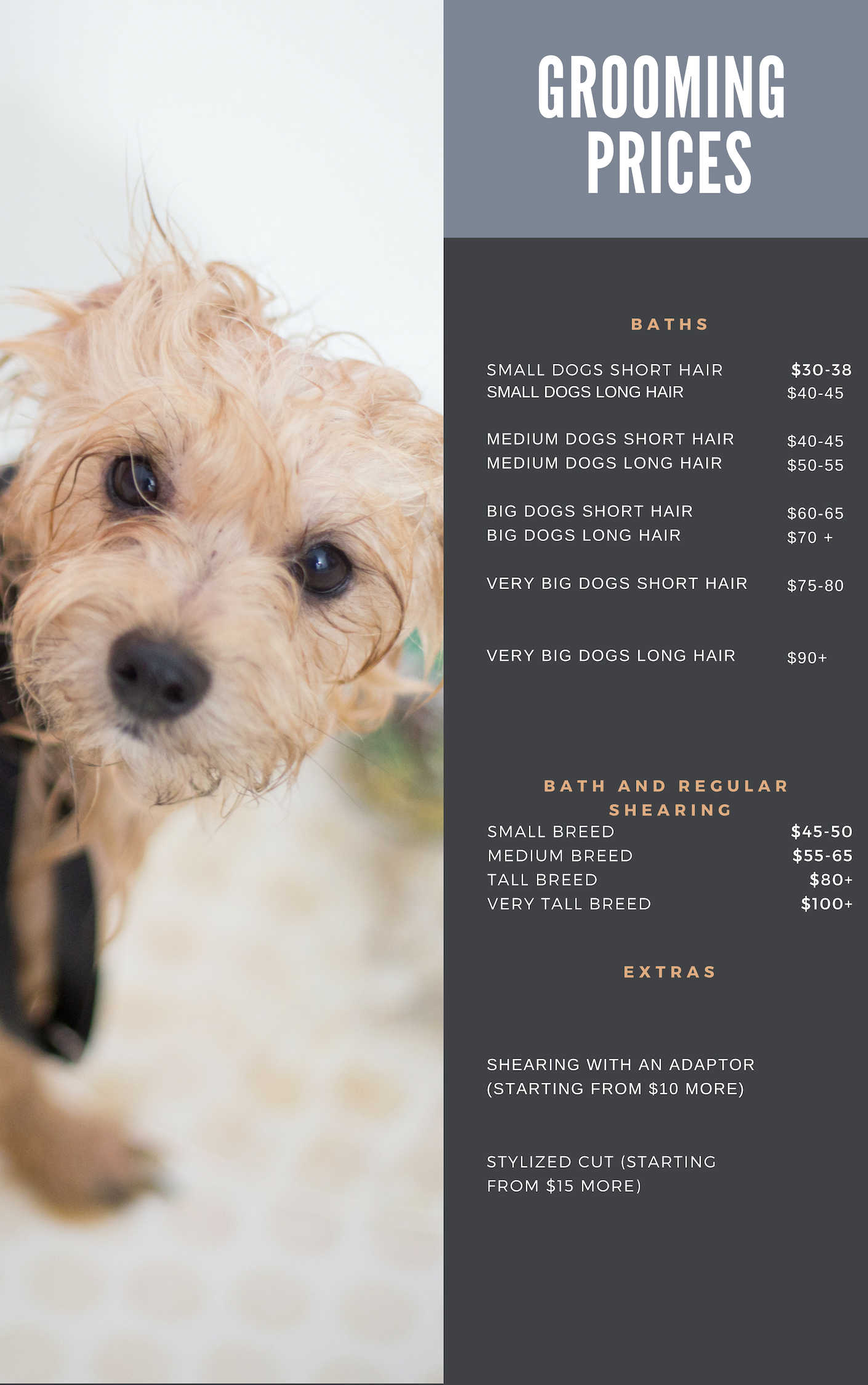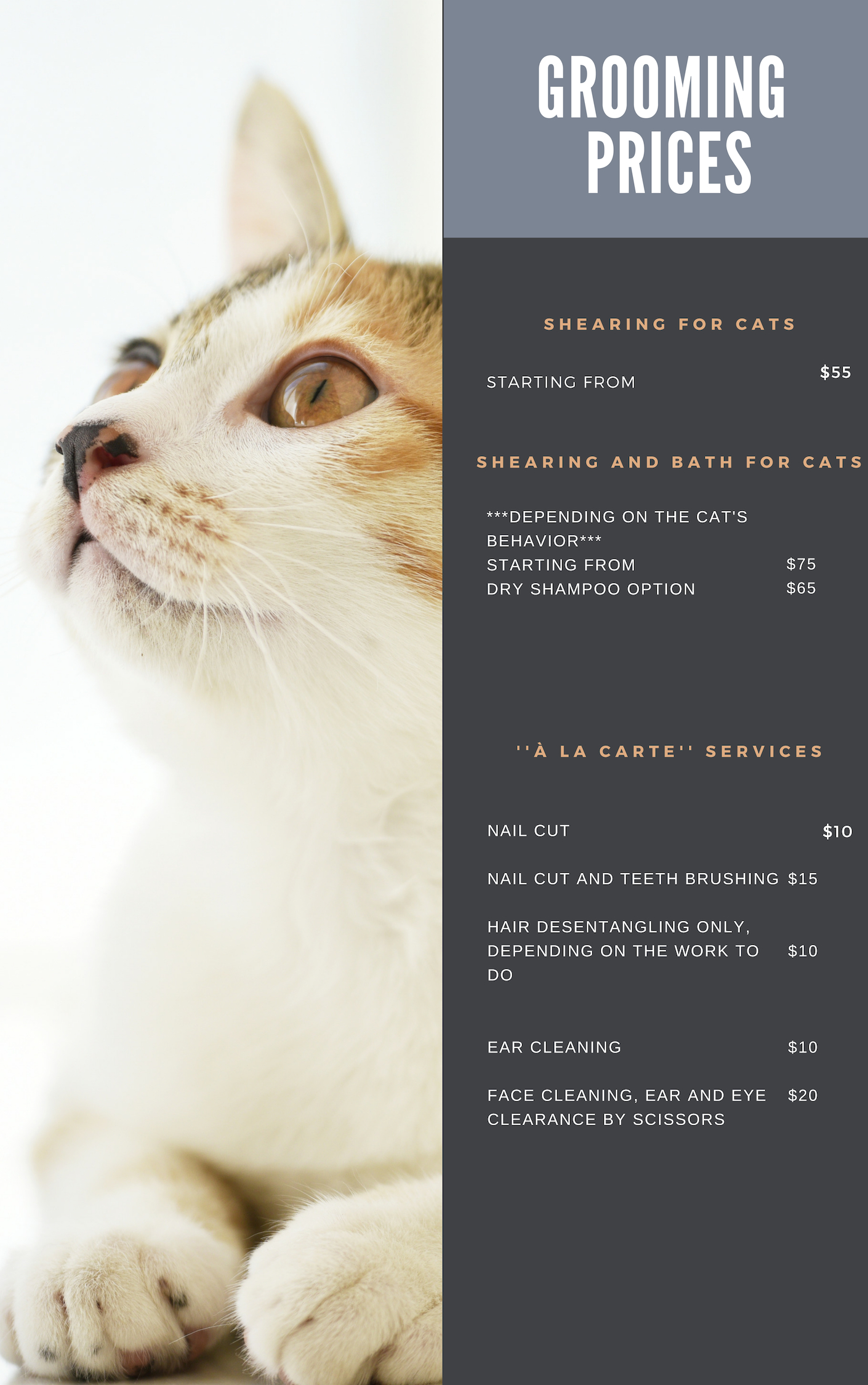 Le Complexe Hôtel Balto provides access to its facilities for all boarders and daycare animals. During their stay, your pet will have several outings in a very large indoor park newly built for dogs. This park is handy to ensure all dogs spend their energy safely and away from the weather. In addition, your dog will have several outings in our outdoor parks. These parks, surrounded by nature, are used to play, run and walk several times a day. Inside, the large living room with leather sofas and TVs is the perfect place to relax and listen to music. Dogs can take a nap, socialize or play.
Since Le Complexe Hôtel Balto knows that all dogs are different and that their needs are too, several services are at their disposal. You can offer an individual walk to your dog at the frequency you desire to give them special attention or for health reasons. You can also choose to have them pampered by our professional groomers so that they are all clean when you return home! Le Complexe Hôtel Balto also offers the opportunity to see your pet by remote surveillance camera! You can see them in the comfort of your destination. Perfect for those who miss their best friend a few minutes after having separated!
Since all our roomers deserve to have a quality experience, we offer an all inclusive package. This package is popular because it allows you to leave with confidence. The all-inclusive package includes six outings outside and two outings in the indoor park accompanied by our qualified staff. Dogs are always accompanied and very little in their room, except for nap time. All our dogs also have access to the large lounge area where they are free to relax on our sofas. All dogs are supervised and accompanied daily from 6am until 10pm in the evening. A storage cabinet is available in each room to leave their belongings. Since the health of your pet is paramount, the drug administration service is offered free of charge and is done by competent personnel. As food is important, we offer a daily snack for free, but you have the option to add more with the ''service à la carte'' !
Keep in mind that inclusions change for felines. You will understand that your cat will not go outside. The facilities at Complexe Hotel Balto have been designed considering that dogs and cats do not have the same needs. This is why cats have rooms on a different floor than dogs, for example. Cats need more tranquility, but a constant human presence. Our employees will be there to play with them, caress them, reassure them and answer their needs. They will be on the floor where our administrative offices are located; a place that moves less and less noisy to ensure they have the best time with us.
Here are the all-inclusive price lists. Prices vary depending on the room. These rooms are designed to welcome cats and dogs of different sizes and breeds. At Le Complexe Hôtel Balto, the rooms have windows overlooking the nature and a window overlooking the interior park. * All rooms have a TV, a wardrobe unique to your pet, a custom made iron bed , a mattress and bedding.
Feline guests also have access to a cat tree as they feel safer in height.
Le Complexe Hôtel Balto is proud to have redesigned and rebuilt its rooms prioritizing the well being of the animal without compromise. The safety of the animal, its health and its development is what is most important for the whole staff.
*Applicable sonly at the new location.
Le Complexe Hôtel Balto offers the possibility of renting your pet's room at the old Hotel. This price list (# 2) is for the old location. Do not hesitate to contact us for any question.
Le complexe Hôtel Balto offers grooming services. Whether your pet stays at the hotel or not, you have access to this service.
Grooming is done by our professional groomers who are attentive to the details and well-being of each animal. You can choose between bathing, bathing and mowing and bathing and stylized cut. You can choose the cut for your pet or even seek the advice of our professionals. Full grooming is included for all types of appointments. This includes cleaning of the ears and eye area, claw cutting, hair cutting under the legs and ear waxing if necessary.
Prices may vary depending on the length and condition of the fur as well as the size and temperament of the animal.
It will be discussed with the groomer the day of the appointment.
Need to have your pet taking care of only for the day? Le Complexe Hôtel Balto offers a daycare service !
Daycare dogs will have access to the same outings as our boarders. This service offers a reduced price for your second animal that comes the same day !
How to tell if your dog is categorized in small dog or very big dog ?
Here is our system according to the weight of your animal :
Small Dog : 1 to 10 lbs
Medium Dog : 11 to 30 lbs
Very Big Dog: 61 lbs and more.
Note that additional fees will be charged for long hair and / or mixed hair (knots or undercoat).
Feel free to contact us for questions or making an appointment !
Since you can enjoy the grooming service without being a guest of the Hotel, you can also choose services à la carte. Our groomers are available to advise and help you. You can also use the à la carte service to enjoy a claw cut at a low price without having a complete grooming.
Le complexe de l'hotel Balto offers a grooming service for cats also ! All our groomers are trained to give the best care to your cat.
Our services are offered on appointment only.
Book Online :
Call us 450-424-2258