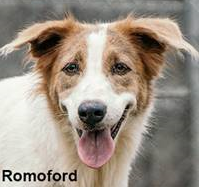 ROMOFORD: female, 5 years, 16kg, Group B+ back leg amputee.
Quand je suis entré, le chien était très sympathique. Le chien s'est approché de moi, m'a sauté dessus et m'a léché la main. Je peux toucher le chien et je peux facilement me mettre en laisse. (Bouche ouverte, corps détendu, queue relevée et remuant). À l'extérieur, le chien commence à explorer timidement (remuement de la queue) puis il explore calmement, il s'intéresse aux autres chiens et aux gens. Elle semble un peu nerveuse quand elle marche, (queue baissée) mais elle marche bien. Sans laisse, elle explore calmement, le chien s'est approché après un court instant, elle n'avait aucun intérêt à jouer avec moi ou des jouets.
–
When I went inside, the dog was very friendly. The dog approached me, jumped on me and licked my hand. I can touch the dog and I can easily put a lead on myself. (Mouth open, body relaxed, tail up and wagging). Outside the dog begins to explore tentatively, (Tail wagging) and then she calmly explores, she is interested in other dogs and interested in people. She seems a little nervous when she walks, (tail down) but she walks well. Off lead she explores calmly, the dog approached after a short time, she had no interest in playing with me or toys.