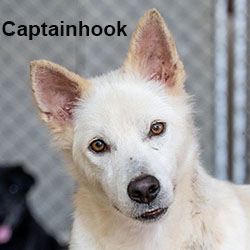 CAPTAINHOOK: male, 2 years, 15kg, Group A/B Front leg amputee
Il était très excité et est venu m'attendre près de la porte quand il m'a vu entrer dans la course. Il est venu et s'est approché de moi joyeusement quand j'ai commencé la course. Il sauta sur moi et me mordit doucement la main. Il a suivi la course et m'a laissé le toucher. (queue relevée et remuant, bouche ouverte, corps détendu, oreilles en arrière). Le personnel a dit qu'il n'avait pas de problème avec les autres chiens. Dehors, il pouvait marcher partout avec confiance ; il s'arrêtait et regardait les autres chiens quand il les voyait mais continuait à marcher quand j'appelais son nom. Il n'avait pas peur de se promener dans un quartier animé et bruyant. Sans laisse, il n'était pas intéressé à jouer avec des jouets, il courait et explorait joyeusement. Il venait quand j'appelais son nom.
–
He was very excited and came to wait for me by the gate when he saw me entering the run. He came and approached me happily when I entered the run. He jumped on me and nipped my hand gently. He followed around the run and let me touch him. (tail up and wagging, mouth open, body relaxed, ears back). The staff said he doesn't have a problem with other dogs. Outside he could walk everywhere confidently; he would stop and look at other dogs when he saw them but would continue walking when I called his name. He was not scared to walk around a busy and noisy area. Off lead he was not interested in playing with toys, he would run and explore around happily. He would come when I called his name.