Why ?
For the love of animals
The Balto shelter was founded by Diane Lévesque in 2010. Being an animal lover and aware that shelters are becoming fuller and lack space, Ms. Lévesque wanted to improve the situation. Being more and more solicited to take the dogs who no longer had their places in a shelter, she knew she could not stop there. The Balto Shelter welcomed a number of pound dogs that were going to be euthanized. The shelter was built in collaboration with the Complexe Hotel Balto and continues to welcome several dogs regularly. Over the years, many dogs have found perfect families and their forever homes. We are always looking for volunteers to help us maintain the Balto Refuge and foster homes so that our sheltered dog can show the best version of themselves. You can send your application to info@hotelbalto.com or fill the form at the bottom. 
Adopt
Thinking of adopting?
Thinking of adopting? We are here to answer your questions. The decision to adopt a dog should never be taken lightly. You adopt a living being that will depend on you for a decade. Adopting a dog in a shelter is a beautiful gesture, but do you know everything that it involves ? We want to help you prepare. Come see our dogs for adoption and ask your questions. All our dogs are treated like our boarders. They are cajoled every day and their behavior is analyzed before adoption. All our dogs have a great place in the hearts of all our employees. We are looking for a family with whom their lifestyle conforms. We want you to have the right dog, and for you to be the perfect caretaker for life and not just a season. Our animals are kept in a safe and non-violent facility. Contact adoptionsbalto@gmail.com for more informations !
Mia and Pixel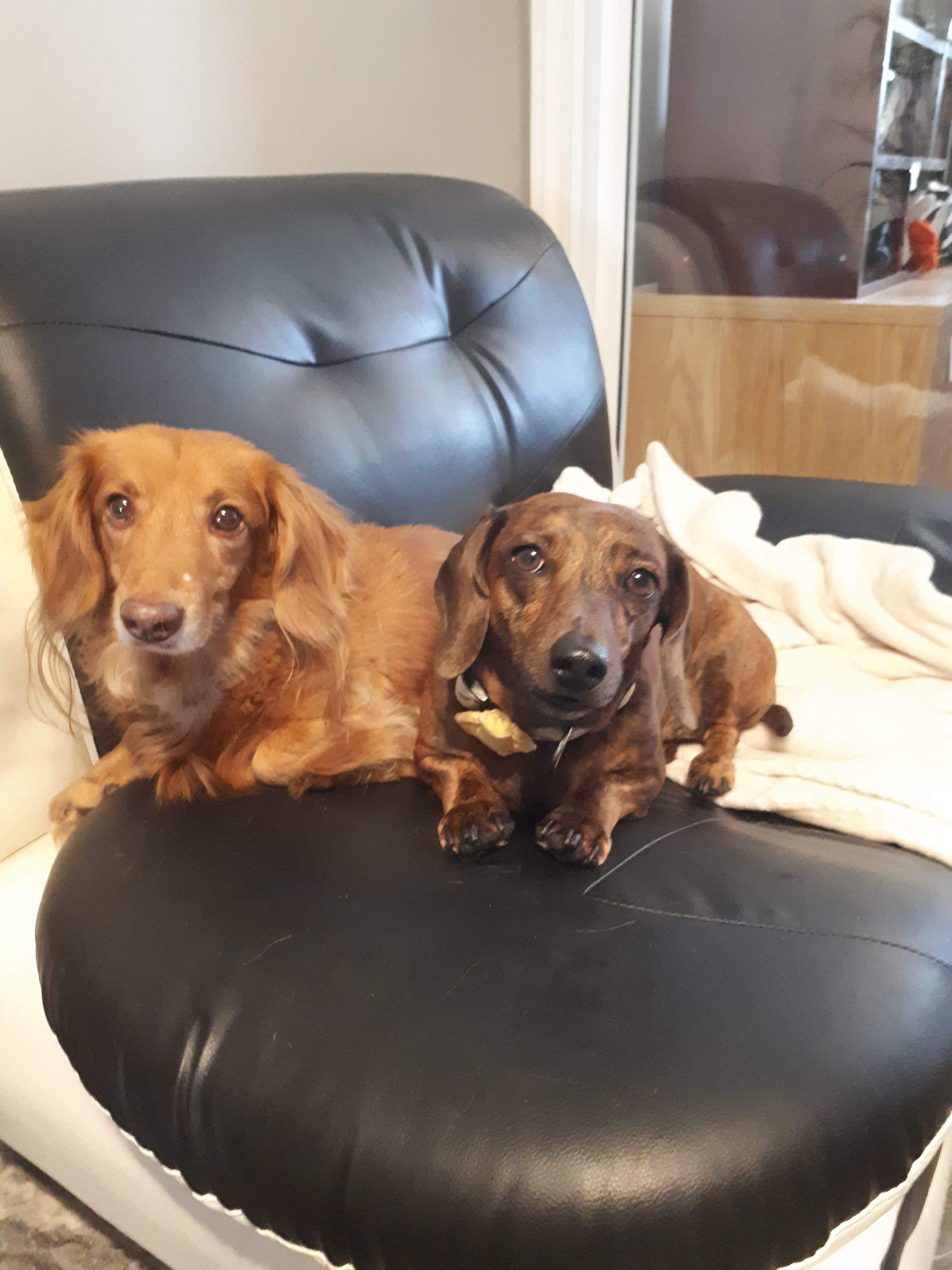 Mia is the long haired tan dachshund, she is 11 years old, she was adopted when she was 5 from a family where she was traumatized by the vacuum cleaner and other loud sounds. She is an anxious dog, but it once you gain her trust, she's a great dog. She's in great shape except has a few articulation pains sometimes. She is very well trained and is very affectionate. She like to suck on her stuffed animals to fall asleep. She can bite if she's extremely anxious, but it is very rare.
Pixel is a 6-year-old brindled female with short hair. She's very playful and in great shape but has a bit of weight to lose because she's a glutton. She is anxious and barky as well and she is afraid of strangers and can snap. Best not to be with young children. She is mostly housebroken but also was taught on pee pee pads. She is very affectionate with the members of her family, likes to sleep glued together and under coverages. She has a lot of tarter on her teeth despite her young age. She's always lived with her sister Mia.
Both dogs are very attached to one another, they need owners who know the breed and who live in a home and not an apartment because they bark. Experienced Owners only Please. Mia can fit with young children, but for Pixel, it will be more difficult because she can fear bite. They always received regular veterinary care
Dogs for adoptions
Thinking of adopting?