Why ?
For the love of animals
The Balto shelter was founded by Diane Lévesque in 2010. Being an animal lover and aware that shelters are becoming fuller and lack space, Ms. Lévesque wanted to improve the situation. Being more and more solicited to take the dogs who no longer had their places in a shelter, she knew she could not stop there. The Balto Shelter welcomed a number of pounding dogs that were going to be euthanized. The shelter was built in collaboration with the Complexe Hotel Balto and continues to welcome several dogs regularly. Over the years, many dogs have found perfect families and their permanent homes. We are regularly looking for new volunteers to help us maintain the Balto Refuge and foster homes so that our sheltered dog can show the best version of themselves. You can send your application to info@hotelbalto.com or fill the form at the bottom. 
Adopt
Thinking of adopting?
Thinking of adopting? We are here to answer your questions. The decision to adopt a dog should never be taken lightly. You adopt a living being that will depend on you for a decade. Adopting a dog in a shelter is a beautiful gesture, but do you know everything that it involves ? We want to help you prepare. Come see our dogs for adoption and ask your questions. All our dogs are treated like our boarders. They are cajoled every day and their behavior is analyzed before adoption. All our dogs have a great place in the hearts of all our employees. We are looking for a family with whom their lifestyle conforms. We want you to have the right dog for you to be the perfect caretaker for life and not for a season. Our animals are kept in a safe and non-violent facility. Contact adoptionsbalto@gmail.com for more informations !
Dogs up for adoptions
Thinking of adopting?
Milou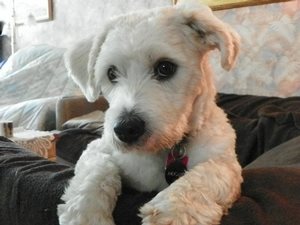 Help us find a home for this wonderful snowy dog Milou ! He is 8 year old dog and great with other animals but must end up in a childless house. He's a bichon mix filled with passion for life! He is always ready to play and to give affection. He is very funny and very agile. Is he yours?