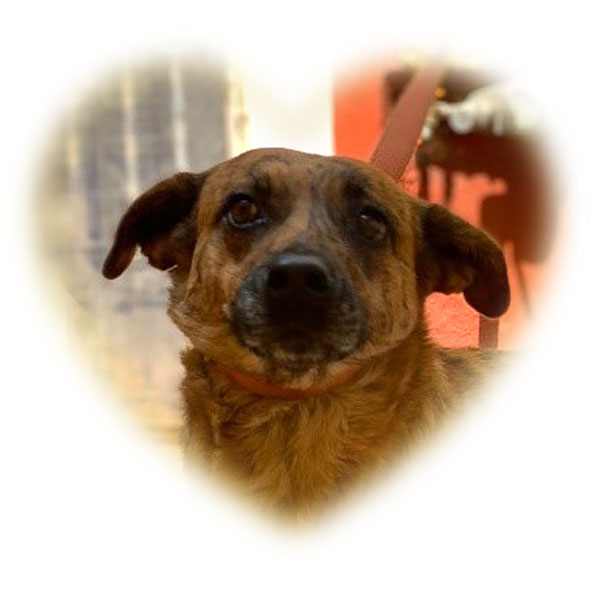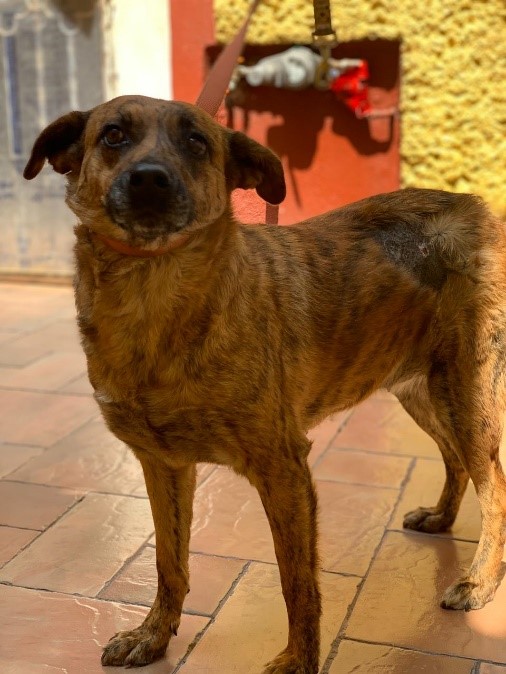 Race / Breed: Mix
Sexe / Sex: Femelle / Female, stérilisée / sterilized
Date of birth / Date of birth: inconnue / unknown
Age / Age : Entre 4 et 6ans – Between 4 and 6 y/o
Couleur / Colour : Brun / Brown
Poids/weight: 25kg
Vaccins / Vaccines: fait / done
Micropuce / Microchip: oui / yes
Propreté / Housetrained: acquise / acquired
Vermifugée / dewormed
Avec autres chiens / with other dogs: oui, à verifier / Yes, but to be verified
Chats /cats: à verifier / to be verified
A verifier avec les enfants / to be verified with children
Cour clôturée recommandée / Fenced yard recommended
L'histoire de Flaca est très triste. Elle a toujours vécu dans la rue. Tout ce qu'elle faisait dans les rues, c'était de marcher avec son meilleur ami, Scooby, pour demander à manger. Ils l'ont stérilisée mais n'avaient ni place ni adoptants, alors elle a continué à attendre dans les rues, comme beaucoup le font. Flaca et Scooby étaient toujours ensemble, prenant soin l'un de l'autre, ils n'étaient littéralement jamais séparés.
Un jour, elle est apparue avec une patte brûlée. Certaines personnes l'ont guérie, mais ses poils ne poussent plus sur une partie de sa jambe. Il semble que quelqu'un lui ait jeté de l'huile ou de l'eau bouillante. Certaines personnes font cela pour éloigner les chiens de leur commerce ou de leur maison.
Quelques mois plus tard, Scooby a soudainement disparu. Flaca et quelques sauveteurs sont allés le chercher et l'ont trouvé en train de se frapper à un poteau lumineux, essayant de marcher, complètement aveugle. Ils l'ont emmené chez le vétérinaire, l'ont interné. Il semblait avoir une infection et était si calme, il n'était jamais de cette humeur. Il est mort 2 jours après. Ils ont su alors qu'il savait qu'il allait mourir, que quelque chose n'allait pas, et il s'est éloigné d'elle. Il ne voulait pas que Flaca le voie mourir.
Flaca est restée au même endroit à l'attendre. Elle ne bougeait même pas pour aller au marché où ils demandaient de la nourriture. Certains sauveteurs l'ont laissée dormir à l'intérieur, elle pleurait beaucoup, voulait être dehors pour Scooby. Mais il ne venait pas et elle l'a compris. Ils lui ont promis qu'elle avait déjà assez souffert et qu'elle aurait la vie qu'elle mérite.
Flaca est une chienne si gentille, elle adore prendre soin des autres, jouer et être flattée. C'est un chien parfait, elle aime à peu près tout. Flaca est très calme et tout ce dont elle a besoin est de se sentir aimée.
Elle est spéciale car elle a beaucoup plus souffert que quiconque ne pourrait en supporter et elle a beaucoup d'amour à donner.
Ma future famille devra donc être patiente, car malgré mon âge, j'ai besoin de quelqu'un pour me guider. Je devrai aussi tout apprendre sur les bruits de la maison, car je n'y ai probablement jamais mis une patte. Vous devrez me montrer si je suis autorisée à monter sur le divan, ce que je trouverai sûrement très confortable. Je m'entends avec mes autres amis chiens, mais si ma future famille en a déjà un, il faudra que je le rencontre pour voir si lui je vais l'aimer. Il ne faudra pas oublier que puisque j'en connais si peu, ça ferait beaucoup de travail avoir un autre ami dans la même famille.
Flaca's story is very sad. She always lived in the streets. All she did in the streets was walking with her best friend, Scooby, to ask for food. They sterilized her but had no place or adoptants, so she kept there waiting in the streets, as a lot do. Flaca and Scooby were always together, taking care of each other, they were literally never apart.
Someday she appeared with a burned leg. Some people cured her, but hair won't grow anymore. It seems someone threw boiling oil or water on her. Some people do that to make dogs go away from their businesses or houses.
Some months later, Scooby suddenly disappeared. Flaca and some rescuers went to look for him and found him hitting himself to a light post, trying to walk, completely blind. They took him to the vet, intern him. He seemed to have an infection and was so quiet, he was never in that mood. He died 2 days after. They knew then he knew he was going to die, that something was wrong, and he walked away from her. He didn't want Flaca to see him die.
Flaca stayed at the same place waiting for him. She didn't move even to go to the market where they asked for food. Some rescuers let her sleep inside, she cried a lot, wanted to be outside for Scooby. But he wasn't coming so finally she got it. They promised her she already had suffered enough and will have the life she deserves.
Flaca is such a nice dog, she loves taking care of others, playing and being pet. She's a perfect dog, she likes pretty much everything. Flaca is very quiet and all she needs is to feel she is loved.
She's special because she's suffered a lot more than anyone could take and she has a lot of love to give.
My future family will therefore have to be patient, because despite my age, I need someone to guide me. I will also have to be taught everything about the noises of the house, because I probably never put a paw there. You will have to show me if I am allowed to board the couch, which I will surely find very comfortable. I get along with my other dog friends, but if my future family already has a dog, I will have to meet him to see if I will like him. Keep in mind that since I know so little it would be a lot of work to have another friend in the same family