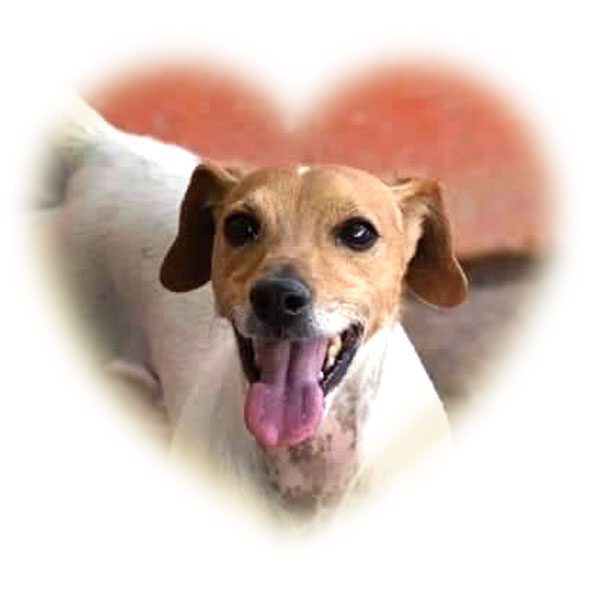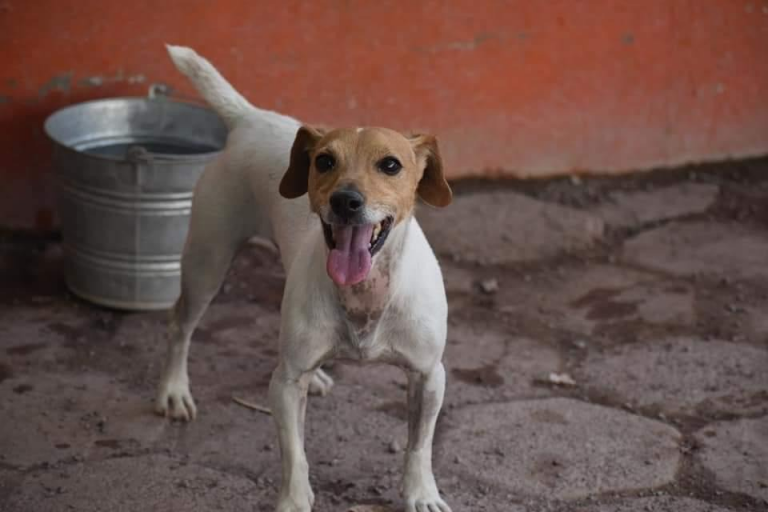 *CHIEN SENIOR / SENIOR DOG
Race / Breed: Jack Russell
Sexe / Sex: Mâle / Male, stérilisé / sterilized
Date de naissance / Date of birth: Janvier 2013 / January 2013
Age / Age :  9 ans – 9 y/o
Couleur / Colour : blanc et brun / white and browm
Poids/weight: 8kg
Vaccins / Vaccines: fait / done
Micropuce / Microchip: oui / yes
Propreté / Housetrained: acquise / acquired
Vermifugé / dewormed
Avec autres chiens / with other dogs: oui, à verifier / Yes, but to be verified
Chats /cats: OUI / YES
A verifier avec les enfants / to be verified with children
Cour clôturée recommandée / Fenced yard recommended
Senor avait une maison et une famille. Malheureusement, son propriétaire est décédé et la personne qui s'est alors occupé de lui ne pouvait plus l'avoir car il n'aimait pas les chiens. C'est pourquoi ils l'ont abandonné. Senor est un petit homme indépendant et courageux. Il aime vraiment passer du temps avec ses amis (d'autres chiens) et jouer un peu ici et là avec ses humains. Il n'aime pas partager sa nourriture avec d'autres chiens alors il est nourri dans son chenil. Il a subi une chirurgie TTA droite pour une blessure aux ligaments croisés. Senor aime la vie tranquille et paisible. Il adorerait être le seul chien à être choyé toute la journée. Il pourrait aussi vivre avec d'autres chiens et il est amical avec les chats. Une maison ou un appartement serait bien. Comme il souffre de sclérose nucléaire (fatigue oculaire) et n'excelle pas dans l'utilisation de son odorat, il peut parfois ne pas reconnaître son monde la nuit, il est donc habitué à être mis en cage de 19 heures au lendemain.
Ma future famille devra donc être patiente, car malgré mon âge, j'ai besoin de quelqu'un pour me guider. Je devrai aussi tout apprendre sur les bruits de la maison, car je n'y ai probablement jamais mis une patte. Vous devrez me montrer si je suis autorisée à monter sur le divan, ce que je trouverai sûrement très confortable.  Je m'entends avec mes autres amis chiens, mais si ma future famille en a déjà un, il faudra que je le rencontre pour voir si lui je vais l'aimer.  Il ne faudra pas oublier que puisque j'en connais si peu, ça ferait beaucoup de travail avoir un autre ami dans la même famille. 
Senor used to have a house and a family. Unfortunately, his owner passed away and the person who then took care of him couldn't have him anymore because he didn't like dogs. That's why they surrendered him.  Senor is an independent and brave little man. He really enjoys hanging out with his gang (other dogs) and playing a bit here and there with his humans. He does not like to share his food with other dogs so he is being feed in his kennel.  He had a right TTA surgery for a crossed ligaments injury.  Senor loves the quiet and peaceful life. He'd love to be the only dog to be pampered all day long. He could live with other dogs too and he is cat friendly. A house or an apartment would be fine.  As he has nuclear sclerosis (eyestrain) and doesn't excel at using his sense of smell, he might, sometimes, not recognize his people at night so he is used to be crated since 7 pm to the next day.
My future family will therefore have to be patient, because despite my age, I need someone to guide me. I will also have to be taught everything about the noises of the house, because I probably never put a paw there. You will have to show me if I am allowed to board the couch, which I will surely find very comfortable.  I get along with my other dog friends, but if my future family already has a dog, I will have to meet him to see if I will like him. Keep in mind that since I know so little it would be a lot of work to have another friend in the same family.