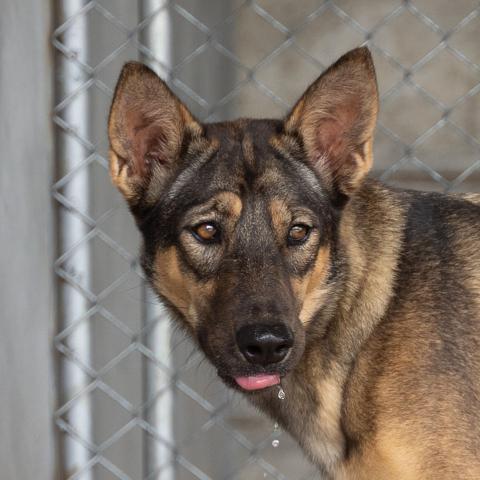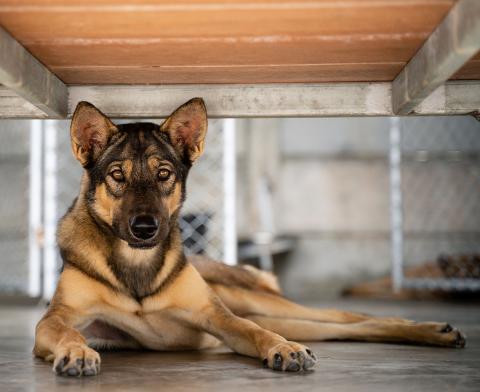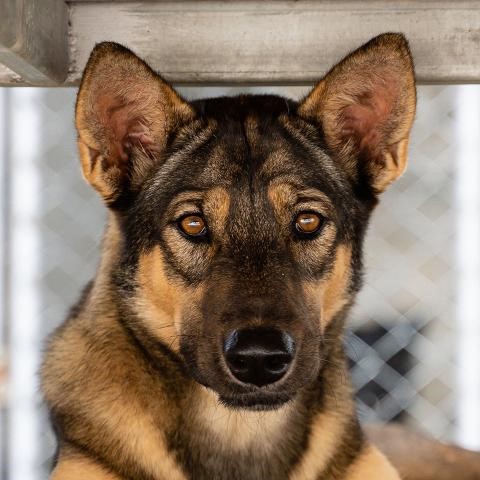 Race / Breed: Mix
Sexe / Sex: Femelle / Female, stérilisée / sterilized
Date de naissance / Date of birth: 2 août 2018 / August 2, 2018
Age / Age : 2.5 ans – 2.5 y/o
Couleur / Colour : noir et sable / black and sable
Poids/weight: 21kg
Vaccins / Vaccines: fait / done
Micropuce / Microchip: oui / yes
Propreté / Housetrained: acquise / acquired
Vermifugé / dewormed
Avec autres chiens / with other dogs: oui  / Yes
Chats /cats: à verifier / to be verified
A verifier avec les enfants / to be verified with children
Cour clôturée de 6 pieds nécessaire / 6 feet fenced yard required
TOUS LES CHIENS DE SOI DOG DOIVENT PORTER UN HARNAIS ET UN GPS FOURNIS PAR LA FONDATION / ALL SOI DOG DOGS MUST WEAR A HARNESS AND GPS PROVIDED BY THE FOUNDATION
*UNE PARTIE DE LA DESCRIPTION NOUS A ÉTÉ FOURNIE PAR SOI DOG* / *PART OF THE DESCRIPTION WAS SUBMITTED BY SOI DOG*
La jolie apparence et la nature douce de Spritzee ne sont certainement pas le produit de son environnement car elle a un début de vie très difficile. Elle est née dans une ferme porcine en Thaïlande et a survécu en mangeant les restes de nourriture qui restaient après que les porcs aient mangé à leur faim. Des gens locaux aimables qui vivaient à proximité ont parlé à un partisan de Soi Dog de Spritzee et l'ont amenée dans la région où vivait le supporter afin qu'elle puisse s'assurer que Spritzee était nourrie et soignée tout en vivant à proximité. Malheureusement, en raison de l'épidémie de corona et de la pauvreté, les personnes avec lesquelles Spritzee vivait ont dû quitter Phuket et retourner dans leurs villages d'origine dans le nord de la Thaïlande. Spritzee a de nouveau été laissée seul et a malheureusement été impliquée dans un accident de la route, subissant de multiples fractures qui nécessitaient un traitement. Elle a été emmenée au refuge de Soi Dog et a reçu les soins dont elle avait besoin ainsi qu'un endroit sûr où séjourner. Spritzee a bien récupéré et est une petite fille douce et calme qui prend un certain temps à se rapprocher des gens. Mais une fois qu'elle le fait, elle est leur meilleure amie pour la vie !! Elle a hâte de découvrir la vie au Canada et de découvrir son histoire ici, après les mauvaises expériences qu'elle a vécues au cours de sa courte vie.
Ma future famille devra donc être patiente, car malgré mon âge, j'ai besoin de quelqu'un pour me guider. Je devrai aussi tout apprendre sur les bruits de la maison, car je n'y ai probablement jamais mis une patte. Vous devrez me montrer si je suis autorisée à monter sur le divan, ce que je trouverai sûrement très confortable.  Je m'entends avec mes autres amis chiens, mais si ma future famille en a déjà un, il faudra que je le rencontre pour voir si lui je vais l'aimer.  Il ne faudra pas oublier que puisque j'en connais si peu, ça ferait beaucoup de travail avoir un autre ami dans la même famille
Spritzee's pretty appearance and gentle nature are definitely not a product of her environment as she a very hard start in life. She was born on a pig farm in Thailand and survived by eating the scraps of food that remained after the pigs had eaten their fill. Some kind local people who lived nearby told a Soi Dog supporter about Spritzee and brought her to the area where the supporter lived so she could make sure that Spritzee was fed and looked after while living nearby. Unfortunately, due to the corona epidemic and poverty, the people who Spritzee was living with had to leave Phuket and move back to their home villages in Northern Thailand. Spritzee was left alone again and was unfortunately involved in a road traffic accident, sustaining multiple fractures that needed treatment. She was taken to Soi Dog's shelter and given the care she needed as well as a safe place to stay. Spritzee has recovered well and is a gentle, quiet little girl who takes a while to warm up to people. But once she does she is their best friend for life!! She can't wait to experience life in Canada and find her furry tail story after the bad experiences she has had in her short life.
My future family will therefore have to be patient, because despite my age, I need someone to guide me. I will also have to be taught everything about the noises of the house, because I probably never put a paw there. You will have to show me if I am allowed to board the couch, which I will surely find very comfortable.  I get along with my other dog friends, but if my future family already has a dog, I will have to meet him to see if I will like him. Keep in mind that since I know so little it would be a lot of work to have another friend in the same family