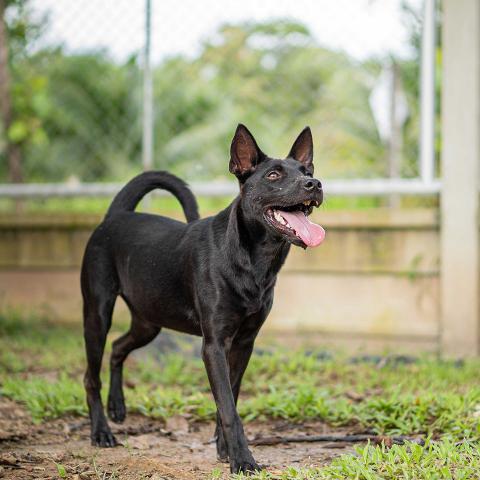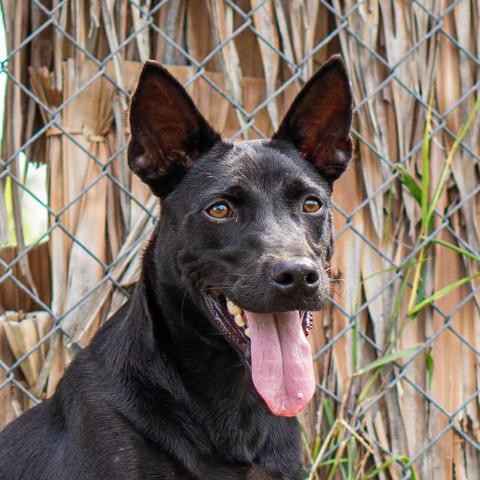 Race / Breed: Mix
Sexe / Sex: Mâle / Male, stérilisé / sterilized
Date de naissance / Date of birth: 22 déc 2019 / Dec 22, 2019
Age / Age : 1.3 ans – 1.3 y/o
Couleur / Colour : Noir / black
Poids/weight: 15kg
Vaccins / Vaccines: fait / done
Micropuce / Microchip: oui / yes
Propreté / Housetrained: acquise / acquired
Vermifugé / dewormed
Avec autres chiens / with other dogs: oui, à verifier / Yes, but to be verified
Chats /cats: à verifier / to be verified
A verifier avec les enfants / to be verified with children
Cour clôturée de 6 pieds recommandée / 6 feet fenced yard recommended
*TOUS LES CHIENS DE SOI DOG DOIVENT PORTER UN HARNAIS ET UN GPS FOURNIS PAR LA FONDATION / ALL SOI DOG DOGS MUST WEAR A HARNESS AND GPS PROVIDED BY THE FOUNDATION*
**UNE PARTIE DE LA DESCRIPTION NOUS A ÉTÉ FOURNIE PAR SOI DOG* / *PART OF THE DESCRIPTION WAS SUBMITTED BY SOI DOG**
Les chiots nés dans les rues de l'île de Phuket ont la chance de survivre car beaucoup d'entre eux sont abandonnés peu de temps après leur naissance. Pino était l'un de ces chiots, mais son histoire a une fin heureuse car il a été découvert par un lycéen local. Comme elle était encore à l'école, la jeune femme était incapable de s'occuper de Pino, alors elle a appelé la Fondation Soi Dog pour obtenir de l'aide. L'équipe de sauvetage a récupéré le petit Pino et l'a amené au refuge de Soi Dog pour sa sécurité. Ce magnifique petit garçon est devenu un beau garçon qui aime socialiser avec d'autres chiens. Il est également gentil et amical avec les gens, il fera donc un ajout formidable à une famille chanceuse après son arrivée au Canada.
Ma future famille devra donc être patiente, car malgré mon âge, j'ai besoin de quelqu'un pour me guider. Je devrai aussi tout apprendre sur les bruits de la maison, car je n'y ai probablement jamais mis une patte. Vous devrez me montrer si je suis autorisée à monter sur le divan, ce que je trouverai sûrement très confortable.  Je m'entends avec mes autres amis chiens, mais si ma future famille en a déjà un, il faudra que je le rencontre pour voir si lui je vais l'aimer.  Il ne faudra pas oublier que puisque j'en connais si peu, ça ferait beaucoup de travail avoir un autre ami dans la même famille.  Il me faudra une cour clôturée d'au moins 6 pieds, car je risque de me sauver.
Puppies born on the streets of Phuket Island are lucky to survive as many of them are abandoned shortly after birth. Pino was one of these puppies but his story has a happy ending as he was discovered by a local high school student. As she was still at school the young lady was unable to look after Pino so she called Soi Dog Foundation for help. The Dog Rescue team collected little Pino and brought him to Soi Dog's shelter for safety. This gorgeous little lad has grown into a handsome boy who loves socializing with other dogs. He is also sweet and friendly with people so is going to make a pawesome addition to a lucky family after he arrives in Canada.
My future family will therefore have to be patient, because despite my age, I need someone to guide me. I will also have to be taught everything about the noises of the house, because I probably never put a paw there. You will have to show me if I am allowed to board the couch, which I will surely find very comfortable.  I get along with my other dog friends, but if my future family already has a dog, I will have to meet him to see if I will like him. Keep in mind that since I know so little it would be a lot of work to have another friend in the same family.  I will need a fenced yard of at least 6 feet, because I might run away.