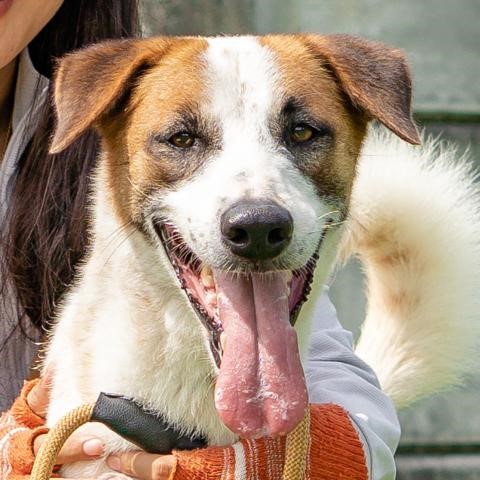 Race / Breed: Mix
Sexe / Sex: Mâle / Male, stérilisé / sterilized
Date de naissance / Date of birth: 1 juin 2017 / June 1st, 2017
Age / Age : 3 ans – 3 y/o
Couleur / Colour : blanc et brun / white and brown
Poids/weight: 17kg
Vaccins / Vaccines: fait / done
Micropuce / Microchip: oui / yes
Propreté / Housetrained: acquise / acquired
Vermifugé / dewormed
Avec autres chiens / with other dogs: oui  / Yes
Chats /cats: à verifier / to be verified
A verifier avec les enfants / to be verified with children
Cour clôturée de 6 pieds nécessaire / 6 feet fenced yard required
Caractéristique: tripode
TOUS LES CHIENS DE SOI DOG DOIVENT PORTER UN HARNAIS ET UN GPS FOURNIS PAR LA FONDATION / ALL SOI DOG DOGS MUST WEAR A HARNESS AND GPS PROVIDED BY THE FOUNDATION
*UNE PARTIE DE LA DESCRIPTION NOUS A ÉTÉ FOURNIE PAR SOI DOG* / *PART OF THE DESCRIPTION WAS SUBMITTED BY SOI DOG*
Molong est un beau garçon de trois ans avec un sourire long qu'on voit de loin. Sa nature douce ne reflète pas la vie qu'il a pu mener avant d'être amené au refuge Soi Dog à Mai Khao sur l'île de Phuket. Nous n'avons aucun moyen de savoir ce qui l'a amené à vivre dans la rue, mais il s'est arrêté brutalement lorsqu'il a été heurté par une voiture. L'impact a tellement blessé sa jambe avant que l'équipe vétérinaire n'a pas pu la sauver et il a dû être amputé. Molong ne pouvait plus survivre dans les rues et a eu la chance d'avoir un espace sûr dans le refuge de Soi Dog où il attendait de trouver une maison pour toujours. Heureusement, sa chance est arrivée car il arrivera au Canada pour commencer sa grande aventure !! Molong marche bien et s'est adapté à la vie sur trois pattes; il s'entend avec les autres chiens et aime explorer le monde.
Ma future famille devra donc être patiente, car malgré mon âge, j'ai besoin de quelqu'un pour me guider. Je devrai aussi tout apprendre sur les bruits de la maison, car je n'y ai probablement jamais mis une patte. Vous devrez me montrer si je suis autorisée à monter sur le divan, ce que je trouverai sûrement très confortable.  Je m'entends avec mes autres amis chiens, mais si ma future famille en a déjà un, il faudra que je le rencontre pour voir si lui je vais l'aimer.  Il ne faudra pas oublier que puisque j'en connais si peu, ça ferait beaucoup de travail avoir un autre ami dans la même famille
Molong is a handsome three year old boy with a smile a mile long. His sweet, gentle nature does not reflect the life he may have led before being brought to Soi Dog's Shelter in Mai Khao on Phuket Island. We have no way of knowing what led to him living on the streets but it came to a crashing halt when he was hit by a car. The impact injured his front leg so badly that the vet team were unable to save it and it had to be amputated. Molong could no longer survive on the streets and was lucky to be given a safe space at Soi Dog's shelter where he has been waiting to find a forever home. Luckily his chance has arrived as he will be arriving in Canada to start his big adventure!! Molong walks well and has adjusted to life on three legs; he gets on with other dogs and enjoys exploring the world.
My future family will therefore have to be patient, because despite my age, I need someone to guide me. I will also have to be taught everything about the noises of the house, because I probably never put a paw there. You will have to show me if I am allowed to board the couch, which I will surely find very comfortable.  I get along with my other dog friends, but if my future family already has a dog, I will have to meet him to see if I will like him. Keep in mind that since I know so little it would be a lot of work to have another friend in the same family