Désolé, nous ne prenons plus les demandes pour ce chien.
Sorry, we are no longer taking requests for this dog.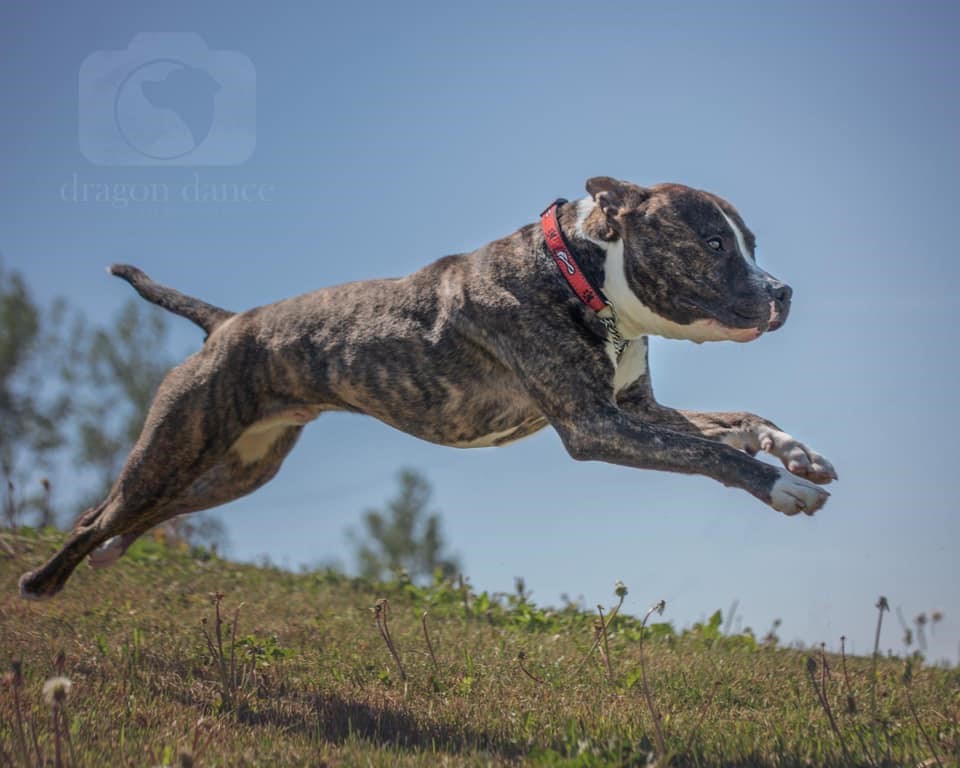 Race / Breed: Pitbull mix
Sexe / Sex: Mâle / Male, stérilisé / sterilized
Date de naissance / Date of birth: inconnue / unknown
Age / Age : Presque 2 ans  / almost 2 y/o
Couleur / Colour : noir, brun, blanc / black, brown, white
Poids : env 60lbs / approx. 60lbs
Vaccins / Vaccines: fait / done
Micropuce / Microchip: fait / done
Propreté / Housetrained: acquis / acquired
**MISE À JOUR**
*Vous vous rappelez de Tiger?  Il est parti en adoption en novembre 2020.  Tout allait super bien, jusqu'à son 3 mois, période où les chiens se sentent très confortable à la maison.  Ses vieux démons ont refait surface, il fait de la protection de ressource de personnes.  Ce qui veut dire que les étrangers ne sont pas les bienvenus dans la maison, il va les snapper.  La famille choisit devra OBLIGATOIREMENT faire affaire avec un intervenant canin pour casser ce comportement*
*Si vous avez un autre animal à la maison, ou des enfants plus jeunes que 13-14 ans, ce chien n'est pas pour vous*
Chien très énergique, très affectueux, mais il se pense encore un chiot donc, il saute et son poids peut blesser les jeunes enfants. Propre dans la maison, la promenade en laisse est à perfectionner. Il connaît le 'assis', mais il est très excité donc, ça peut être ardu d'y rester. Il est surnommé le lapin Energizer. Il lui faudra une cour clôturée, d'au moins 6 pieds de hauteur, car il peut se sauver, surtout s'il court après un autre animal, qui se serait introduit sur son terrain. Il ferait n'importe quoi pour attirer l'attention de son maître, ou pour avoir une gâterie. Il est fortement recommandé de prendre des cours de dressage.
**UPDATE**
* Do you remember Tiger? He left for adoption in November 2020. Everything was going great, until the 3 months period, when the dogs feel very comfortable at home. His old demons have resurfaced, he is protecting people resource. Which means strangers are not welcome in the house, he'll try and snap them. The chosen family MUST do business with a canine worker to break this behavior.
* If you have another pet at home, or children younger than 13-14 years old, this dog is not for you *
Very energetic dog, very affectionate, but he still thinks he is a puppy, so he jumps and his weight can hurt young children. Clean in the house, walking on a leash needs to be improved. He knows about 'sitting', but he's very excited so it can be tough staying there. He is nicknamed the Energizer Bunny. He will need a fenced yard, at least 6 feet high, because he can save himself, especially if he runs after another animal that has entered his property. He would do anything to get his master's attention, or to get a treat. It is strongly recommended to take training lessons.