Désolé, nous ne prenons plus les demandes pour ce chien.
Sorry, we are no longer taking requests for this dog.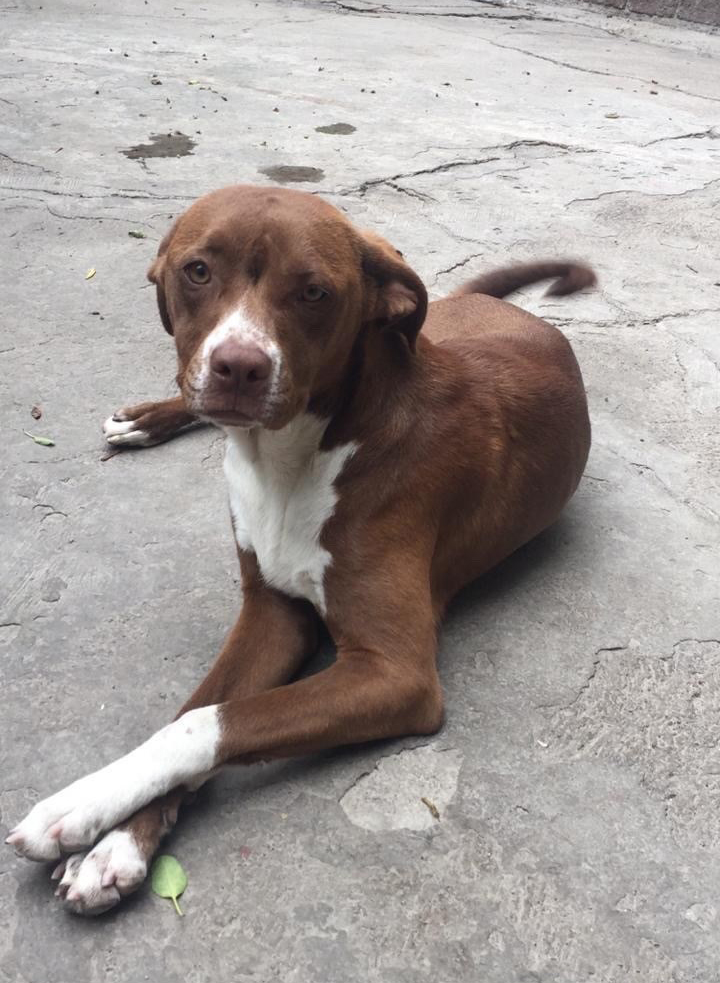 Race / Breed: mix
Sexe / Sex: Femelle / Female, stérilisée / sterilized
Date de naissance / Date of birth: inconnue / unknown
Age / Age: 2 ans – 2 y/o
Couleur / Colour : brune et blanche / brown and white
Poids/weight:  20kg
Vaccins / Vaccines: fait / done
Micropuce / Microchip: fait / done
Propreté / Housetrained: acquise /acquired
Comme tous nos chiens, elle sera vermifugée / Like all our dogs, she will be dewormed
Entente avec les autres chiens / Understanding with other dogs: bonne, mais à vérifier  quand même / good, but still to be verified
Entente avec les chats / understanding with cats: à verifier / to be verified
Bonne avec les enfants / good with kids
Cour clôturée, 6 pieds de préférence / fenced yard, preferably 6 feet
Cette beauté a été abandonnée lorsqu'elle était bébé et, vivait dans un des pires quartiers du Mexique.  Elle vivait près d'une décharge et, se nourrissait de déchets pour survivre.  La belle s'est faite frapper par une voiture, elle a été hospitalisée pendant 20 jours pour soigner ses blessures.  Elle vit maintenant dans un refuge depuis plusieurs mois.  On dit que Nicole est hyper douce et gentille et qu'elle saura gagner votre cœur.  Nicole arrivera au Québec le 21 décembre pour rencontrer sa famille pour la vie.
This beauty was abandoned when she was a baby and lived in one of the worst neighborhoods in Mexico. She lived near a landfill, and ate garbage to survive. The beauty was hit by a car, she was hospitalized for 20 days to treat her injuries. She has now been living in a shelter for several months. They say Nicole is super sweet and kind and will win your heart. Nicole will arrive in Quebec on December 21 to meet her family for life.